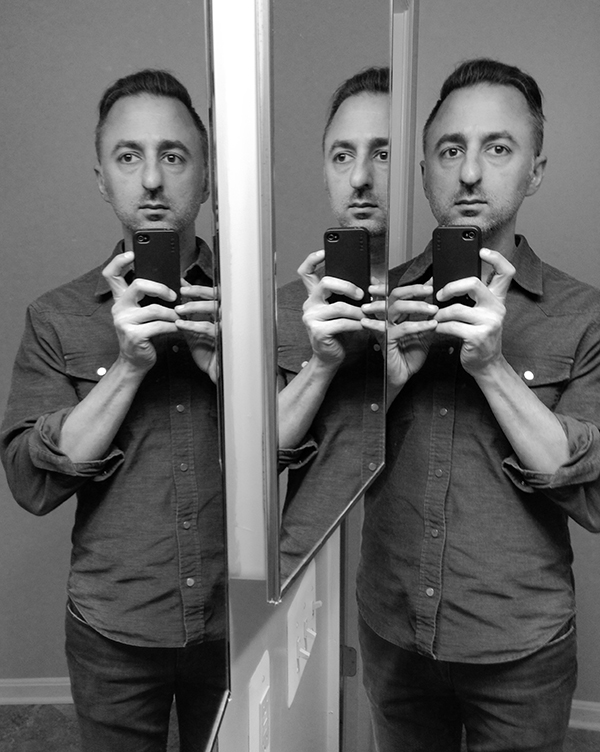 This midwestern yo-yo was born in Cleveland, raised outside Detroit and has lived in the D.C. area since 1999 (currently in Kensington, Maryland).  As a freelancer, I contribute to editorial outlets in the form of portraiture and candid life in a street photographer's style, but I also work for nonprofits and commercial organizations.  Most people know me for my portraiture and American Sequitur, a long-term book project in search of a publisher.
Since 2014 I've also worked in documentary video, creating pieces on Iraqi and Afghani refugees in Maine; a riverkeeper in Kentucky; anemia in Nepal and Uganda; and post-Ebola healthcare in Liberia and Sierra Leone. The latter two involved both photographing and filming overseas for John Snow, Inc. (JSI), a public health NGO that works on various USAID-funded projects all over the world.
Please be in touch: yospyn [at] gmail.com.
Partial Client List
ABC7/WJLA-TV (Washington, D.C.), Academy of Motion Picture Arts and Sciences, Angie's List, American Academy of Physician Assistants, Arab Banking Corporation, Bay Nature Magazine, Blueprint Magazine, Capitol File, Carnegie Mellon University, Credit Union Times, Cultural Tourism DC, Footwear News, Essence Magazine, HelloWallet/Morningstar, JSI Research & Training, Inc., Knack Weekend (Belgium), Lucky Magazine, Marine Boating Association, MSNBC, National Geographic Proof Blog, The New Yorker, NeighborWorks, Network News Service, PBS, Popular Photography, Refinery29, TBD.com, The Express, The New York Times Lens Blog, The Washington Post & Magazine, TimeOut, U.S. Department of State, Washingtonian, Willard InterContinental, Women's Wear Daily, Worn Creative, Xtend Barre
Notables
– CUGH-Pulitzer 5th Annual Video Competition: Honorable Mention in Advocacy in Global Health Category, 2018
– Judge for Washington, D.C. Leica Store Annual Juried Exhibition, 2015
– Mountain Workshops, Video Track, Berea, Kentucky, 2014
– Multimedia Immersion Workshop, Salt Institute, Portland Maine, 2014
– Speaker and Specialist Grant, U.S. State Department and the U.S. Embassy of Jordan, 2014
– New York Times Second Annual Portfolio Review, 2014
– Interview About American Sequitur, Eric Kim Photography Blog
– First place, FotoWeek DC 2010, Portrait
– Honorable Mention, The Lucie Awards 2008, Non-Professional
– Honorable Mention, Px3 Prix de la Photographie Paris 2007
– 2nd Place, The Lucie Awards 2005, Non-Professional, Special Effects
– Honorable Mention, Photoworkshop.com Digital Imaging Competition 2005
Select Exhibitions
– APPALACHIA at Aff Galerie in Berlin, Germany (Sept. 7, 2019)
– Transformer Gallery Annual Auction (Nov 17, 2018)
– Transformer Gallery Annual Auction (Nov 18, 2017)
– Transformer Gallery Annual Auction (Nov 19, 2016)
– Looking at Appalachia (May 21, 2015-ongoing in multiple locations)
– Transformer Gallery Annual Auction (Nov 21, 2015)
– Locally Sourced, Transformer Gallery's Flat File at AU Katzen Arts Center (Jan 24-Mar 15, 2015)
– Transformer Gallery Annual Auction (Nov 22, 2014)
– American Sequitur at Artisphere (Aug 27-Nov 15, 2014)
– Out of Order at the Maryland Art Place (Apr 5, 2013)
– Miami Street Photography Festival, Judge's Pick (Dec 6-8, 2013)
– Portrait and a Story at Studio Gallery (Feb 29-Mar 23, 2012)
– G40 Art Summit (May 19-Jun 17, 2011)
– Exposed: The Polaroid Retrospective II (Apr 9-30, 2011)
– Exposed: The Polaroid Retrospective (Jan 6-Feb 19, 2011)
– Likeness at Honfleur Gallery (Nov 11-Dec 17, 2010)
– FotoWeek DC Competition at the Corcoran Gallery of Art (Nov 6-13, 2010)
– 11 x 51: 2011 Artist Fellowship Program Exhibition (Aug 13-25, 2010)
– Portraits of DC (Indefinitely on N Street NW between 7th and 9th)
– Red Exhibition at the Center for Fine Art Photography (Apr 23-May 22, 2010)
– The Art of Food at Arlington Public Library (April 2-30, 2010)
– Mirror To The World: Documentary Photography at Glen Echo (Mar 19-April 18, 2010)
– Portrait 2.0 at Pyramid Atlantic Arts Center (Nov 12-Dec 10, 2009)
– FotoWeek: Fixation at Fight Club (Nov 14-23, 2008)
– Civilians for Obama at Civilian Art Projects (Oct 17, 2008)